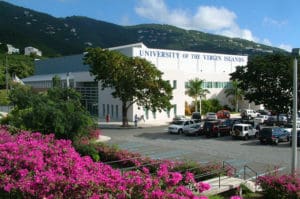 Sen. Dwayne M. DeGraff has announced that on Friday, Oct. 7, the University of the Virgin Islands Sports and Fitness Center will be renamed the Elridge Wilburn Blake Sports and Fitness Center.
Sen. DeGraff was the main sponsor of Act No. 8510, which honors and commends Blake for his outstanding career and accomplishments in sports, and his contributions to the people of the Virgin Islands and the university.
"Mr. Blake has been an outstanding member of this community and has touched many lives as a professor and coach," DeGraff said. "He has also represented our territory for many years as a sports ambassador. It is only fitting that we honor him in this way, especially while he is alive to witness it."
The official renaming ceremony and unveiling of the sign will take place outside the Sports and Fitness Center on the Orville Kean Campus on St. Thomas at 10 a.m., Friday. The public is invited to attend to show their support.
"I strongly believe that we should give honor those to whom honor is due. Mr. Blake is one such member of our community," DeGraff said. "I thank my colleagues and Gov. Albert Bryan Jr. for their support of the legislation. Many thanks to the University of the Virgin Islands for implementing the act and conducting the ceremony in honor of Mr. Blake."