SHELDON—Many new mothers are resigned to pregnancy hindering their body, but Ashton Koehlmoos is on a mission to dispel myths and misconceptions about healthy childbearing.
"There is a big gap in what women are told as far as exercise and their pregnancies," Koehlmoos said. "There's a big discrepancy in the range in what women are told and what is appropriate for each woman's body. Each woman carries a baby differently. Every woman experiences a pregnancy differently and we all have unique things we need to take into consideration."
That's why she is leading a Fitness During Pregnancy Workshop on Saturday, Oct. 22, at the Northwest Iowa Lifelong Learning and Recreation Center in Sheldon.
The LLRC has hosted Koehlmoos before. She runs several programs with her training business, Resilient Mama Fitness & Lifestyle, based out of her home in rural Granville. The businesswoman said she values her event-based structure and being out in the community for her lessons.
"I didn't want a brick-and-mortar business. I wanted to be able to go to these different places whether that be the chiropractor, the gym and the massage places, working with doulas or lactation consultants," she said. "It's all connected. It's all 'How can we support moms?' and improve their overall lifestyle."
The upcoming workshop at the LLRC will focus on day-to-day fitness for those who are pregnant or plan to be. The class runs 9 a.m.-1:30 p.m. and costs $75. Registration is online at nwicc.edu/events/fitness-during-pregnancy-workshop.
Koehlmoos said a mother's physical well-being can be vastly improved via posture training, better breathing and other simple adjustments.
"Fortunately, but unfortunately, the fixes to these things are very simple. It's just bringing awareness to different tasks," she said.
She went on to explain a lot of problems women experience often stem from an overworked and overstressed abdomen.
"It is very much a how-to on fitness adjustments pregnant women should be implementing as their pregnancies progress to maintain the integrity of their core and pelvic floors. Pregnancy and postpartum is when most women begin to experience symptoms of core and pelvic floor dysfunction because pregnancy itself is very stressing on the body," she said.
Koehlmoos has experienced many of these issues firsthand. She and her husband struggled for years on their way to her two children.
An excess of societal stress is placed on mothers, she said, and she aims to help her mamas-in-arms through the challenge.
"The heartbeat of my business is helping women achieve function and helping women realize what we do in our daily lives — how we carry our children, how we pick up the groceries, how we stand, how we do all these different things in our mom life, carry strollers, carry everything — all of those things can affect our overall function," Koehlmoos said.
That's the umbrella goal for all her work with Resilient Mama. She also does programs on at-home exercise and other aspects of fitness.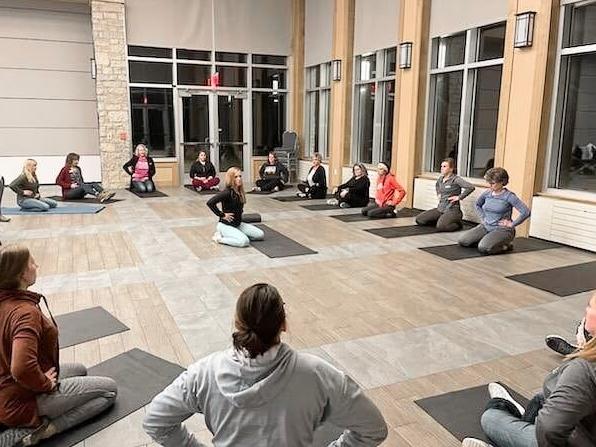 "The ultimate goal is to be a mom and being able to do life without peeing your pants, without pelvic pain, without low-back pain, all of these stigmas that moms just deal with," she said.
She is close with LLRC director Greta Giese. The two worked together in 2012, the founding year for the Northwest Iowa Community College facility and Koehlmoos' first job out of college.
Giese said she is excited to work in association with Resilient Mama whenever there's an opportunity. They did a pair of events together in the winter, right after Koehlmoos founded her company in January.
"Events and workshops like these offer our community members the education and experiences that they want and need, and NCC gets to support them and connect with them," Giese said. "It is also wonderful to continue to partner with a small, northwest Iowa business owner who has ties to NCC and whose servant heart aligns so closely with what we do here at the college."
Koehlmoos has another pregnancy workshop scheduled, this time split into two sessions, in Orange City. The event at Stange Chiropractic Clinic will be Nov. 14-15.
As with any of her classes, she is excited for the lifelong lessons her students can carry with them.
"The information I will be presenting is the information I wish I had before I had my first baby," Koehlmoos said. "Understanding what your body's natural tendencies are, when you become pregnant, they're only going to become that much bigger."