Oct 23, 2022
Rides Horses, Will Travel: On the Road with Julie Wolfert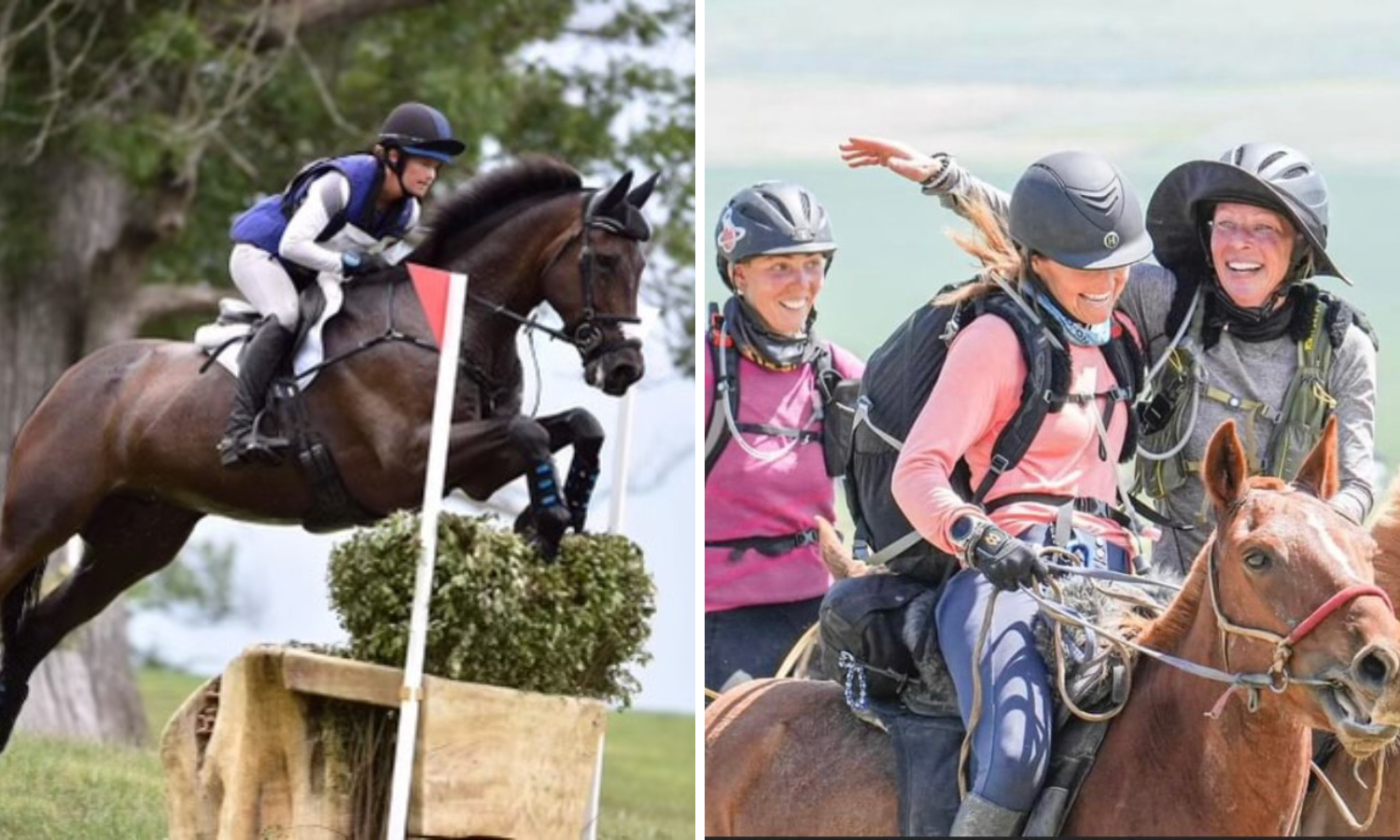 "I love to travel. I'm very adventurous. And obviously, I love horses, so to travel and to ride, that's a win-win for me."
Based in Bucyrus, Kansas, Julie Wolfert probably logs more miles per year on the road than most eventers, a notoriously itinerant bunch. Her most recent and arguably most courageous journey involved flying to East Asia to participate in the Mongol Derby this past summer.
Extending 1,000 km (621 miles) through the Mongolian Steppe, the endurance race follows the messenger system developed by Genghis Khan in the 13th century and is known as the world's longest horse race. Mounted on a series of half-feral ponies, riders must race through challenging and varied terrain that includes mountain passes, valleys, woodlands, wetlands, floodplains, rivers, open steppe, and rolling hills. Riders are required to change mounts every 40 km (24.9 miles) and vet checks are stationed along the route to make sure the ponies are holding up and not being overworked. In short, the race is a perfect testing ground for an intrepid eventer.
"We had followed the Derby for a few years and just found it so funny, just fascinating," Wolfert recalls of first becoming interested in the race along with her friend Renee Senter. It was Senter who started the ball rolling for the epic adventure. "She's like, 'Why don't we do it?'" Wolfert says.
Wolfert half-jokingly agreed but was taken by surprise when Senter went ahead and signed up the next day. She then texted Wolfert and asked if she had followed through as well. "I was like, 'Oh crap!' and immediately applied," laughed Wolfert.
Given the difficulty of the course and the greenness of the ponies, riders are carefully screened and must have demonstrated proof of their riding abilities to be allowed into the race. Senter and Wolfert were among 60 of the roughly 400 applicants who were accepted into the 2021 race but due to COVID restrictions, the race didn't take place until 2022.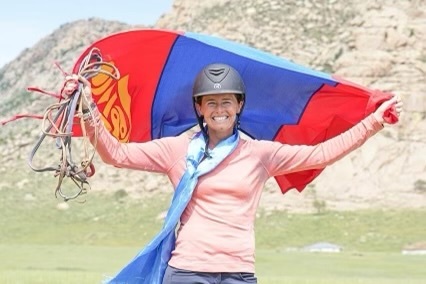 "Holy cow, that is the hardest thing I've ever done!" says Wolfert. "It's incredibly intimidating to throw your leg over one of [the ponies] when they're running around in a circle and the herder's trying to hold its head as tight as he can so he can't buck you off. But once you get on them and just let them go, it's actually okay. I ran like 20 miles straight, and I didn't even have to push the horse. They were so fast, and you're going up and down mountains and streams and they couldn't care less. And you're on these tiny, tiny saddles!"
Luckily, riders are allowed to select their own horses to ride on any given leg of the race, and all the possible mounts are rounded up into camp for the selection process. "There's no fencing in Mongolia. When we are done riding them, they just let them loose. So it's really cool seeing [the herders] herd the horses in for us to pick on the line. There would be 40 horses on a horse line, and the herders would actually saddle the horse for us," Wolfert explained. "There were a few that we picked that would go nuts and start bucking. You can pick a different horse [if that happens]. You can even have the herder get on a horse before you do."
Wolfert recalled one unfortunate selection that Senter made at the start of the race: "The herder got bucked off and the saddle got twisted underneath the horse, and he just went running through the horse line, taking out posts. This was only day three, and her whole entire pack – sleeping bag and everything – got torn to shreds."
Wolfert shared the memory of another moment in the race when she and Senter got lost in the mountains. "It was incredible. We had to get off the horses and we had to hand-walk them up because it was so steep. Then we realized we couldn't make it. So then we had to turn back down and we didn't know what we were going to do that night. It turned out that we were in a campsite where nobody could speak English. Somehow we were able to find a place to rent for the night. We tied our horses to a tree and we hobbled them. That's what they do with their horses there; just tie them to anything really."
Wolfert and Senter eventually found their way back on track and after ten days of racing, they reached the finish line.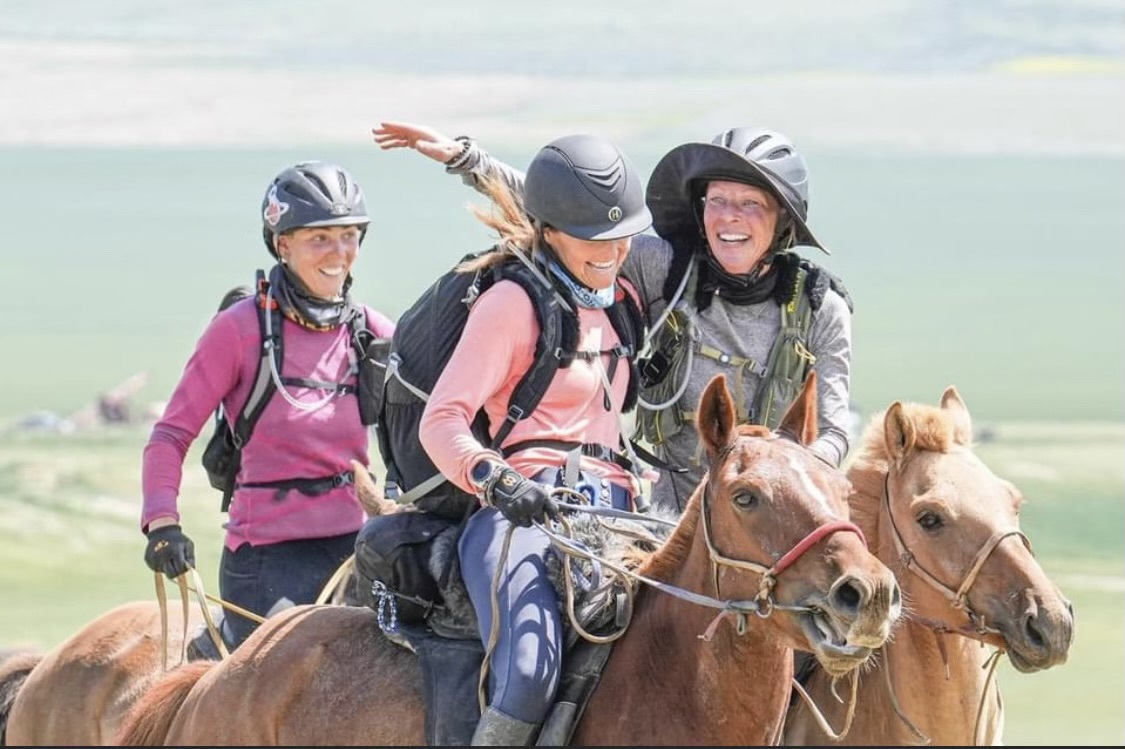 "You'd have to be insane to do this race!" Wolfert said, laughing. But it's clear that she lives for exactly these kinds of exhilarating experiences that can throw into perspective the comforts and routines of home. "I love going to different countries and seeing how [other people] live their lives. It makes you appreciate home. It's cool how a lot of [Mongolia's] older traditions are still intact. They are such a friendly people. They have nothing, and they'll give you everything."
Back at home in Kansas, Wolfert's life is a bit more settled, but she still spends a significant amount of time on the road, traveling to competitions. "We do have the local venues that do host recognized events but they only go up to Preliminary."
A Kansas native, Wolfert has chosen to stay in the area so she can guide other eventers into the sport. "I want to help people out that want to event but they're not living on the east coast. I just love giving them the opportunity that they may not have otherwise."
Wolfert's students range in ability from beginners through the three-star level. Together with her students, she hauls regularly throughout the country to places like Montana, Texas, Pennsylvania, Georgia, Virginia, and Florida. "You accept that where we live in the Midwest, you have to travel. There's no place that's off limits," she says.
Wolfert herself discovered eventing a bit later in life after starting out in the hunter/jumper ring. She had no idea that eventing even existed until she watched David O'Connor compete in the Olympics. "I immediately switched [to eventing] after that," she recalls. "I taught myself up through the Preliminary level. And then I was stabled next to Emily Beshear at one of the American Eventing Championships, and I was talking with her and realized I should probably get some help. So I became a working student for her."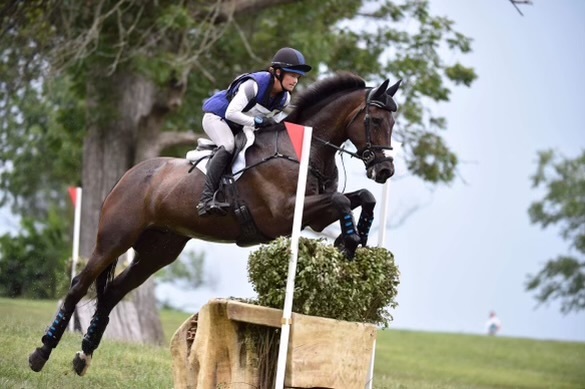 Because she had to find her own way into eventing, Wolfert is devoted to making the path easier for her students. "I try to push my students when they're at the [right] level and age," she says. "I say, 'Hey, I'm going to these shows and it would be great for you to go too if you want more experience.'"
Currently, Wolfert is competing the 10-year-old Holsteiner gelding SSH Playboy (Cit Cat x Stomeyford Black Pearl), aka Jaego, who she co-owns with Senter and Sheri Gurske at the four-star level, as well as bringing two 6-year-olds up through the levels – the Thoroughbred gelding Namibia (Tizway x Kitty Tracks) and the Irish Sport Horse gelding HSH Bitcoin (KEC Maximum Joe x Ignition). Jaego was brought over from Ireland a year ago after a few of Wolfert's other upper-level mounts were sidelined by injuries. Together with her friends Senter and Gurske, Wolfert traveled to Ireland, and the three formed a partnership to purchase Jaego.
"He's incredible," says Wolfert of Jaego. "He's a fantastic jumper. I basically need a parachute every time I jump him. It's been really cool getting to know him because he's totally different than any other horse I've ever had."
Wolfert hopes one day to make it to Kentucky with Jaego but for now, she is enjoying the journey, as it were, as both a rider and a trainer. The generosity of spirit that drives her as a teacher, trainer, and rider is abundantly reciprocated by the students, friends, and owners who understand and support her dreams.
"It would be awesome to one day represent the U.S. in an international event, but it's one step at a time. I'm just having fun doing it. It's my career, so I'm not really on a timeframe. When it happens, it happens."