Travel and hospitality apps have some room for improvement
when it comes to user satisfaction, according to a recent global survey by IT
consulting firm Applause. 
Of the 5,000 respondents, 37% say apps have not been helpful
in managing recent travel challenges, such as rebooking canceled flights and
finding last-minute accommodations. Twenty percent report feeling somewhat or
very dissatisfied with their app experiences.
"When plans change and travelers need to adjust mid-trip,
it's crucial that apps help them efficiently and quickly manage those changes,"
Jennifer Waltner, Applause's global content marketing manager, says in a blog
post.
Survey respondents report having the following problems with
apps:
Being unable to find the information they were looking for
(18%)
Very slow response times (13%)
Localization problems (12%)
Travelers who report feeling dissatisfied often couldn't
complete their desired tasks through the app, Waltner says. Respondents'
comments include: "The app didn't allow me to cancel a reservation" and "I had
a problem filtering results, so I had to start the search again from the
beginning." Another individual remarks that when flights were changed, they could not
rebook online and had to call customer service, where they encountered a
four-hour hold before resolving the problem.
More than two-thirds of survey respondents report being
somewhat or extremely satisfied with the travel apps they use. In addition, 63% say travel apps have been helpful in managing travel
challenges such as cancellations, delays or closures.
When asked what they see as the most important features of a
travel and hospitality app, travelers point to the following criteria:
Helps keep all information in one place: 18%
Connects well to payment devices: 16%
Sends texts for reminders, updates or changes (travel times,
cancellations, reservation times): 15%
Provides a seamless, intuitive experience: 14%
Feels secure; info is protected: 14%
Survey respondents say they use apps to coordinate various
aspects of travel, including booking flights and accommodations, making dinner
reservations and buying tickets and tours.
Eight-two percent of respondents to the August survey have
traveled at least once in the past year; 92% have at least one travel or
hospitality app installed on their mobile devices.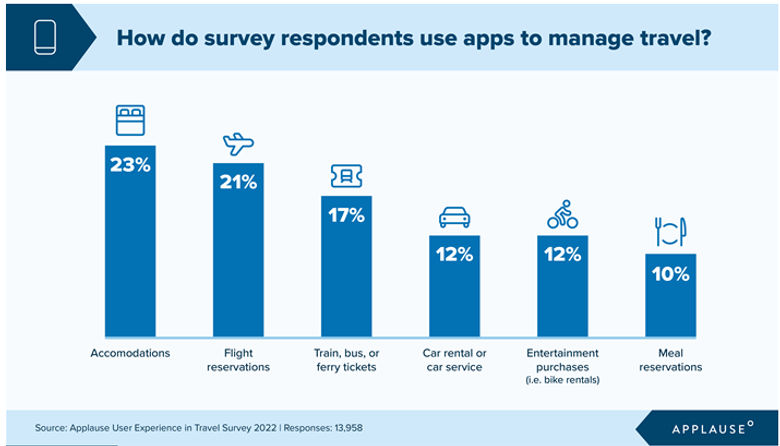 "While things seem to be looking up for travel and
hospitality companies, seamless digital experiences will remain key as the
industry continues to recover," Waltner says. "Thorough testing that ensures
customers who veer off the happy path can use apps to maintain – or regain –
control over their trips will set leaders apart."
Bookings made via travel apps were up 16% in the second quarter of 2022, indicating a strong desire to travel and use digital tools among consumers.
Vrbo was the most downloaded online travel agency app in the United States for the first half of the year.